This page introduces the people of irodori Shisei, who give their all on behalf of our customers' products and the people who use them.
Plant Facility Management,
Quality Engineering Group
Nobuhiro Kurata
To support for better production environment
In April 2020, our Plant Facility Management was created as a new team specialized to control the production facilities, utility system, etc.
I was transferred from the Filling and Packaging Group where I had worked for since joining the company to this new Plant Facility Management given a new challenge.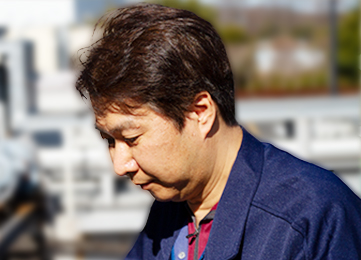 Our roles are daily inspection, repair, and maintenance of the facilities, machinery, devices, equipment, tools, and such.
Keeping equipment well maintained, without fail, at all times is crucial in a manufacturing plant. Just one failure, impairment, or break down in the manufacturing process can cause decline of productivity, defect in product and other problems that trouble the customer, leading to claims.
Inspection and maintenance of the facilities for preventing any fails are very important part of production operation.
We are able to handle a variety of container forms as an OEM company and have built a production structure able to respond to customers' diverse requests. We work every day with utmost care for we believe that customers' trust should be built on the stable provision of "safe, worry-free, high-quality" products enabled by stable operation of the manufacturing equipment in various styles, the utility system which keeps the optimal environment for the production, and such other facilities.
Plant and Manufacturing Division, Mixing Group


Hitoshi Fujita
To build trust...
My job is mainly mixing work, or manufacturing the content of professional-use hair care products. I perform the processes of ingredient weighing, mixing, and extraction, for products that give form to customers' wishes. In the Manufacturing Department, each Group has a role, and many people take a part in creating a single product.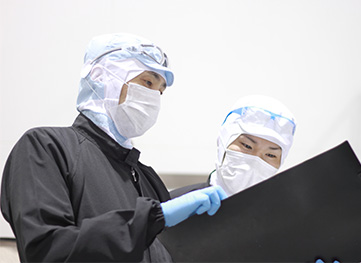 Although 20 years have passed since I joined the company, even now I notice new things every day. I love the moment of creating cosmetics by my own hand. Without mixing, I would have nothing left. That I can say this without exaggeration is because I've grown with a fascination for mixing. Or I've been raised that way, you could say.
As mixing is work that directly involves the content of the product, particularly careful attention is needed.
First-in, first-out weighing of ingredients, with zero tolerance for error, takes place under instructions from the weighing system. In the manufacturing process, there is a process flowsheet for every product, manufacturing volume, and manufacturing cauldron. We perform consistent product creation by double-checking stirring speed, time, and temperature for ingredient admixtures. With "Engage in product creation, with safety, peace of mind, and high quality plus assured technology and passion!" as our motto, we in the Mixing Group collaborate with the R&D and Quality Engineering Groups to improve our knowledge and technologies. We work proactively, through means that include study groups and idea sessions.
"What is it that we're making?" We're aiming to be a group that can confidently respond to that question with "We're making happiness for the customer." To make happiness for the customer, we have to delight the customer.
With assured technology and passion, we envision the happiness of customers who we may not personally meet, and hope to build trust by providing safe, worry-free, high-quality products. I work with products every day, holding that wish in mind.
Quality Engineering Group


Mitsuwaka Hirose
Creating colorful delight...
In August 2012, irodori Shisei moved its plant to a new industrial park about 15km from Tokorozawa. Our plant was reborn as a cosmetics GMP plant, based on the technologies that we had built up for 30 years at the Tokorozawa Plant.
Through close teamwork with customers, the Quality Engineering Group engages daily in the management of quality and technology to produce valuable products under thorough cosmetics GMP management.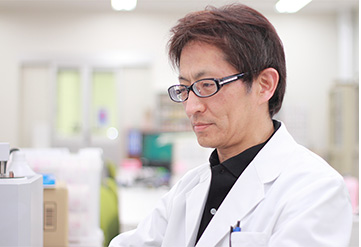 For members of the Quality Engineering Group, the day starts with a check of the facilities and of the purified water. The Group also performs checks of the physical property values of products, shipping inspections for finished products, ingredients, and much more.
We look after customers' valuable products, and the thorough management that we perform until shipping is truly a succession of tense moments. Throughout that, we always look forward to sharing "colorful delight" with our customers.
Cosmetics production comes about through the teamwork of many people, as well as a diverse Production System, facilities to maintain an environment optimal for these, and more. Within this, the Quality Engineering Group forges ahead daily to continue providing customers with assured technology and stable quality.
From our industrial park among the rich nature of the Sayama hills, we aim to create good products and engage in manufacturing with delight. We undertake challenges with the idea that every day should bring new discoveries.
Quality Assurance Group, Total Support Office


Daijirou Abukawa
Placing our relationship of trust with the customer first, we aim to be an excellent OEM partner that makes customers glad to have chosen us
The Total Support Office of the Quality Assurance Group was created as a new department to deal directly with customers.
In order to give form to the dreams and wishes of manufacturers, we listen to them and offer support for all steps – contact and dealings with the R&D Group, communication with the Plant Manufacturing Department, and so on, even after shipping the product.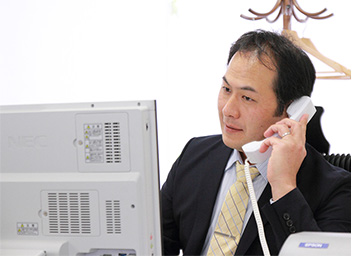 I've been involved with the Filling and Packaging Group of the Plant Manufacturing Department for 24 years since joining the company. I want to leverage the knowledge and experience gained during that time to deliver hair care products and hair coloring products with assured high-quality to customers.
In addition to the wishes of customers, when the R&D Group has developed a new product, we hold proposal meetings. Our hope is to be an OEM that can help invigorate the hair care market and hair coloring market in some small way.
We will continue offering the professional-use hair coloring agents and hair care products that we have built up over many years as an OEM, and hope that we can be of use as an excellent partner in the hair cosmetics industry.
R&D Group


Yutarou Matsumoto
Cosmetics are happiness
Our job is to speedily prepare items that satisfy customers, in line with their requests.
We feel pride and a sense of responsibility toward our work of research and development, and strive to evolve day by day so that we can create even more dreams and happiness. Toward that end, we maintain inquiring minds and seek efficacy that we have never seen before. We will do so repeatedly until we can create products from zero and gain the praise and satisfaction of customers. I love this job.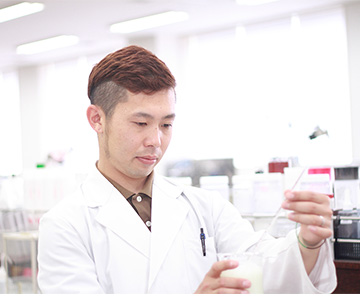 In the development of cosmetics, we engage with customers through words. In actuality, though, this is an area of the senses. We envision things from the customer's ideas, create things with form, and appeal to the customer's sensibilities. We make the fullest use of our ability to think, our ability to act, and our teamwork, hoping to support customers' dreams and happiness.
irodori Shisei is an original equipment manufacturer, or OEM. The products that we develop are polished under a variety of customers. They are also used by a variety of persons. I think of cosmetics as a medium for conveying happiness. I myself am able to use cosmetics to cover areas where I have a complex, and even to change my mood.
I feel that bringing even a little more happiness into the world through our support is my happiness and my mission.
I want to provide cosmetics that only irodori Shisei can create, so that I can give rise to happiness while feeling happiness, and help create even a little more happiness.
Filling and Packaging Group,
Plant Manufacturing Department
Shunsuke Adachi
For creating safe, worry-free, high-quality products...
When I joined the company in 1997, I remember that our filling and packaging operation did not have any high-speed filling equipment like used today, and instead most of the operation was handled manually relying on the experience and skills of the veterans or part-time technicians.
Back then, I was an operator in the hair coloring product filling line. I handled about 13,000 tubes a day matching their print marks one by one by hand.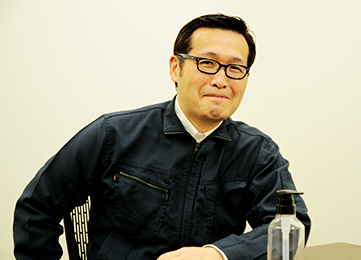 It is hardly believable now that a company staff spends his whole day matching print marks.
There were times I wanted to get away from the job, but I just kept biting the bullet hoping that use of fully-automated equipment would become more commonly available someday.
Today, our facilities, equipment and systems are all very much advanced. Not so many people may recall and talk about the hard old days.
We have prepared structures to match diverse production needs since. But still, we need to keep working on the flexibility of the production lines to be able to adapt to even more diverse customer needs on the container form, content form, type of packaging., etc.
I think we owe our customers that we have grown to us of now. We have been able to improve ourselves as we gained more skills and knowledge in trying to meet their needs.
"When we discuss a new challenging offer, we talk about ways to implement, not the reasons why we cannot. Such manner has become the company culture. We appreciate our customers for giving us such opportunity to talk positive to each other."
We will keep on absorbing new innovative technology while carrying on the filling operation skills I have acquired.
We have received recognition as an OEM company with the No.1 share for professional-use hair coloring products. We could not have done without support of our loyal customers.
We strive to provide safe, worry-free, high-quality products leveraging the known good teamwork of the Filling and Packaging Group while trying to catch up with the technology of the R&D Department in the hair coloring products creation, which is unique in the industry.
The Filling and Packaging Group will continue to carry out every assignment sincerely in order for our company to be ever more trusted by customers.
Sales Planning Group


Ken Yaegashi
For our customers...
The Sales Planning Group's purpose is to help manufacturers give form to their requests and their ideas for their products.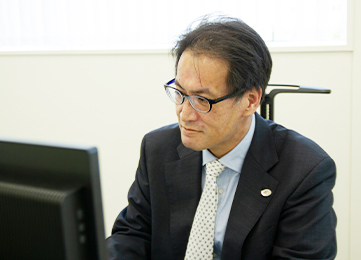 We work on handling communication regarding manufacturing, consultation on formulation, cooperation with our group companies, and other various duties.
In the development of a new product, our tasks are broad: listening to the customer's idea, suggesting and arranging about the ingredients, coordinating with each relevant department, adjusting the production schedule., etc.
Although our customers are mainly commercial product manufactures, we have also started getting orders from customers from other supply chains such as TV-shopping channels, gift shops, drug stores. This new trend often changes our way of approaching and dealing with customers.
With a hope always in mind to provide our customers with satisfactory quality products, we do our best to carry out all duties, learn from every project, and then leverage the experience and knowledge to the benefit of the next new products and customers.
We will keep on working hard to create more hair care products that make as many users as possible feel happy, delighted and fulfilled.
Production Management Group


Keiko Watanabe
To realize an ideal work environment
My job is to create a better work environment to improve our product creation.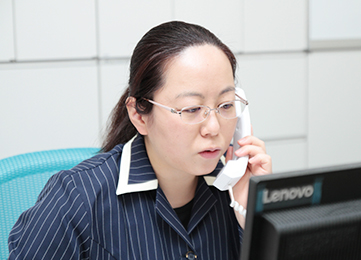 The Production Management Group controls the operations from receipt of order to shipment using the special production control system.
Our task is to accommodate both internal and external needs, schedules, etc. to be able to meet the customer's delivery deadline.
In our operation, we communicate with our customers quite often coordinating deadlines and other arrangements. We aim on handling every phone call with friendliness, email with quick replies, and so on always with honesty and sincerity.
For the workers who are expected to be good communicators to carry out our operations smoothly in everyday duties, I believe preparing a good work environment where they can feel happy and work in good health, mentally and physically, will resultantly benefit not only their lives but the company with even better production quality.
I try to take time to communicate with our staff to understand their physical and mental condition by having frequent meetings and casual conversations. If I see someone is overloaded, I arrange to reallocate the workload.
I also try to have our staff share information to work as one team not to take it on all oneself so that it would be easy to take parental leaves, work short time, and such, as part of work-life balance.
We will keep working on an ideal work environment for delivering our customers with higher-quality products.
Quality Assurance Group


Akinobu Nomura
Aiming to achieve the No. 1 quality in Asia...
Our Quality Assurance, Quality Assurance Group believes "High-quality products will make customers smile." We make efforts everyday to improve the product quality aiming the No.1 quality in Asia. Our job is to ensure the quality of products.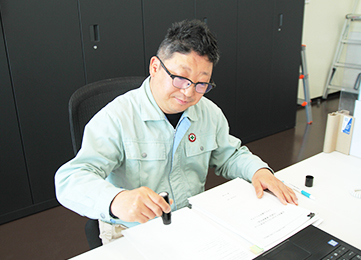 We maintain and improve our quality assurance system, attend and guide a tour for our customers who visit our plant, and summarize suggestions and requests received from customers.
In order to maintain and improve our quality assurance system, we do walk-around inspection through the plant checking the production operation. If we find anything that may lead to a quality accident, we make improvements and prepare a new instruction manual.
We reflect the suggestions and requests from our customers and plant visits in our quality improvement.
Many of the customers' opinions directly come to our group, so we keep in mind to always think from their view point.
Our supporting those customers' requests can sometimes face opposition from the manufacturing site, but we manage to reach a mutually acceptable outcome by satisfying the customer's wish first and then seeking a way to adjust the manufacturing method.
Step by step, we strive everyday to provide our customers with higher-quality products listening sincerely to their every single wish.
It is not too much to say that our customers have helped us learn and grow.
Aiming to achieve the No. 1 quality in Asia, we will continue to work hard to keep offering high-quality products to make our customers smile because we believe our doing so will repay them for their support.